Larchmont Home
Original Products, New Experience
Made in Massachusetts, USA with domestic materials and components.
Industry leading manufacturing and automation tools.
One of the oldest names in snowmaking.
Local manufacturing partners with decades long relationships.
Commitment to quality and customer service.
Parts availability – All Larchmont components are backwards compatible and always will be.
About Larchmont Snowmaking
It's a storied history, we'll fill you in
Generations of experience.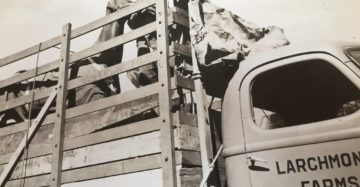 Larchmont Farms (1951)
Larchmont Snowmaking Systems began in 1951 as Larchmont Engineering and Irrigation. Brothers Joseph and Philip Tropeano were the proprietors of Larchmont Farms, a farm established at the turn of the century by their father Joseph Tropeano in Lexington Massachusetts. The farm saw great success in large part due to the knowledge gained by the brothers in the area of irrigation. They were very well versed in the distribution of water for crops. Farmers from the local area and throughout New England were making frequent visits to Larchmont Farms to see the irrigation systems.
Larchmont Engineering and Irrigation (1976)
Joe was a natural salesman and Phil ran the design and manufacturing of their specialty irrigation equipment. Together they worked on various projects all over New England, creating lifelong business relationships, most notably with the timber men and landowners who were working to develop the burgeoning ski industry. Based on these adventures, they began to design and install state of the art snowmaking systems. In the following decades, the brothers used their unique experience and extensive business contacts to leave a lasting mark on the ski industry. By 1976, Larchmont had installed over 700 snowmaking systems throughout the world.
Larchmont Snowmaking Systems (1979)
In the late 1970s the brothers divided their business; Philip and his sons took control of Larchmont Irrigation, while Joe and his sons Joseph and Tom took over Larchmont Snowmaking Systems. The trio continued to grow the snowmaking business, opening three additional overseas offices, and installing hundreds of systems in the United States and abroad. In addition to snowmaking systems, the team developed their SnoTec hydrants and standalone snow guns, a product line with a focus on durability and ease of maintenance. It is because of these design principles and uncompromising manufacturing processes that many Larchmont products can still be spotted on mountains today, some 50 years after their installation.
What's Next (2021)
Tom Tropeano passed away in 2016, and in 2021 Joseph was ready to hand over the reins to family friends. JP, Nate, and Will are excited to pick up where the Tropeanos left off. The team aims to continue the legacy of high-quality, made in the USA snowmaking equipment that has made Larchmont synonymous with durability and dependability for decades.
Amazing Products
Larchmont is committed to quality, now producing all parts in-house or with local manufacturing partners exclusively using domestic materials.
Mount Sunapee, NH

Sun Valley, ID

Diamond Peak Ski Resort, NV

Blue Mountain Resort, PA

Gunstock Mountain Resort, NH

Gore Mountain, NY
Okemo Mountain Resort, VT

Grouse Mountain Resort, BC

Giants Ridge Recreation Area, MN

Eldora Mountain Resort, CO

Breckenridge Ski Resort, CO
Eagle Rock Resort, PA

Donner Ski Ranch, CA

Deer Valley Resort, UT

Crystal Mountain Resort, WA

Beaver Creek Resort, CO

Mt Abram Ski Area, ME